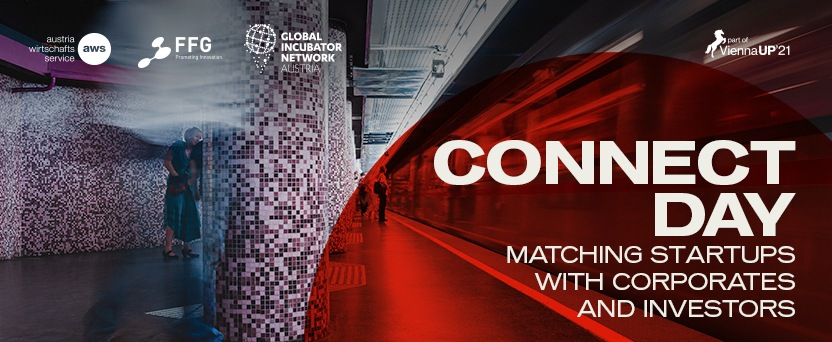 Connect Day 2021: Matching Start-ups with Corporates and Investors
This event aims to bridge international start-up companies with corporates during a one-day event that will be organised as a virtual event to take place on May 3, 2021. The matchmaking session will be open until May 12, 2021. Participation will be possible via smartphone, browser or tablet.
For the Corporate Day, the Enterprise Europe Network is joining forces with the Global Incubator Network (GIN) Austria, the Austria Wirtschaftsservice (aws), the Austrian Research Promotion Agency (FFG), the Vienna Business Agency, the Austrian Chamber of Commerce (WKO), the aws i2 Business Angels and INiTS, Vienna's High-Tech Incubator to attract foreign start-ups that are interested to get in contact with corporates from Austria and all over Europe in order to explore opportunities for cooperation.
Get first hand insights, take part in our 1:1 match-making session, establish new connections and learn more about how to successfully explore opportunities for new cooperations and connect your visions to enhance innovation.
Connect Day supports Corporates/SMEs aiming for innovation and collaboration with startups as well as investors seeking startup investment opportunities.
Program:
– Lightning Talk on innovation and collaboration
– 60 Seconds Start-up Elevator Pitch by Global Incubator Network Austria
– Corporate Reverse Pitch by aws Industry-Startup.Net
– aws Connect Matchmaking powered by Enterprise Europe Network
– Investors Matchmaking by aws i2 Business Angels & Global Incubator Network Austria
Admission for the virtual stage show is open for everybody interested in startup-corporate collaborations. The matchmaking sessions are limited to specific target groups.
Target groups:
– Corporates and SMEs (with a focus on the Austrian market, but not limited to it)
– Investros and start-ups
– Asian startups from the GIN goAustria program
– National startup ecosystem stakeholders
– National corporate networks
Participation in the event is free-of-charge.
For more details, registration and booking meetings: https://www.connectday.at/